Join Single Site / Join Combo Offer (one membership two sites) click here to join
sexysettings.com women tied first time / claudechristian.com women in nylons and nude
Pamela - Models Page - Preview
This girls is super cute and so sexy. Her name is Pamela Michelle and her friends call her Micha. In her first email to me Pamela said she is a shy girl that loves sex, and that she has fantasies about being tied. And that she loves to see the girls being tied and manhandled. I told her to come over, and she did without hesitation a couple of afternoons. When I opened the door I saw this cute girl standing there, blushing. She had a long winter robe on as it was freezing cold outside. As she took off the robe I had to smile, she had dressed to impress me. She had on only a tight top, tight hot pants, nothing else. She immediately said she wanted to be tied so I took my ropes and tied her by the front door. She smiled and said she liked it, and wanted to be tied more, naked. I tied her in all my favorite positions, got her naked spread eagle in my bed too.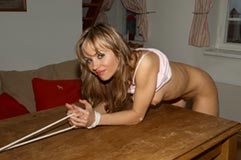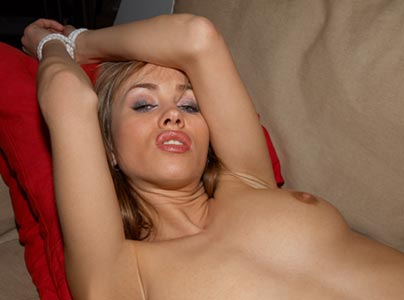 below you have her updates so far
Gallery Pamela tied stretched
Pamela is at my place, dressed in a sheer see through lingerie style dress. See through panties. Stay ups and boots. She takes off the dress and the panties and I tie her on my sofa arms tied, legs tied and then the ropes secured together under the sofa so she is nicely stretched. She makes sure to spread her legs for me to show of her lovely pussy. Members please enjoy my 40 selected very private pics.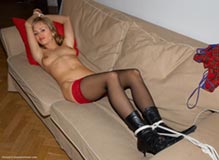 Members: 40 photos - Gallery / photos 2000px in zip file
Gallery Pamela nude tied fully spread
Pamela came over one late evening. She was horny. I told her to go to my bedroom and get naked. She smiled and left the room. When I came in to the bedroom she was waiting in my bed on her back. All naked, already having her legs fully spread. She looked amazing. Soft make up and I loved the lipstick. I tied her arms and legs secured to the bed. She told me she could feel her pussy being warm and wet. That she could feel her clitoris pulsating. It was late, she was with a stranger she had just met a couple of days ago. Naked, tied! And she told me she loved it. Members please enjoy my selected very private pics.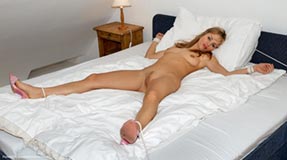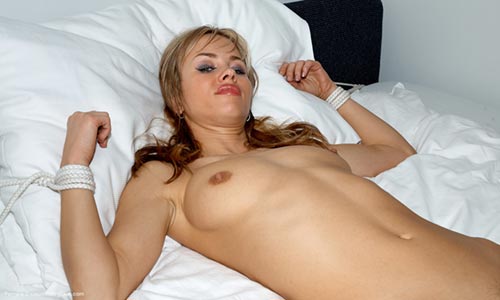 Members: 39 photos - Gallery / photos 2000px in zip file
Gallery Pamela tied to wooden pole
This evening she was horny as hell. She told me she loves having her nipples licked, sucked, pinched. If she at the same time suck a dick she will orgasm, intensely. As she told me what she likes, I tied her naked in my bedroom. Arms tied and secured to the wooden pole in the middle of the room. She admitted that it made her fucking horny, being tied by a stranger. Members please enjoy my selected very private pics.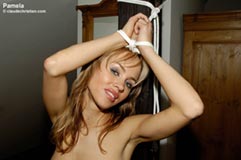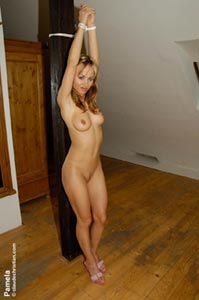 Members: 25 photos - Gallery / photos 2000px in zip file
Gallery Pamela gets tied - loves to show her body
Pamela is dressed in a lovely dress, no panties no bra, in garter belt and stockings. I know I want to tie her on her back, exposed, legs spread. So I tell her to undress in front of me, that I want to see her breasts and her pussy. Slowly she has the dress come up, spreads her legs and shows me her pussy. Then have the dress come down and I can see her firm breasts, her nipples are pointy. As she touches them they get rock hard. She pinches her nipples and shivers and moans with pleasure. I tell her to lay down, that I am going to tie her. She immediately obeys and let me tie her arms, then her legs. She says she can feel her pussy being wet, very wet. Members please enjoy my 60 selected very private pics.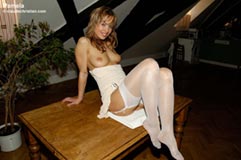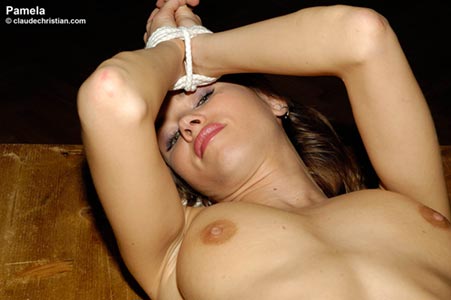 Members: 60 photos - Gallery / photos 2000px in zip file
---
email: support at sexysettings.com
In accordance with the Federal Labeling and Recording-keeping law (18 U.S.C 2257) the records required by Federal Law for this website are kept on file.

All rights reserved. All Models are 18 years of age or older and depicted as of legal age.

Copyright © sexysettings.com All rights reserved