New Woman Lia
Lia came back. This is from our second meeting. She wanted more. Wanted to be told what to do, wanted to be tied. She knew I wanted to see her naked, horny, exposed. And she wanted to be naked in front of a stranger, showing off how horny and slutty she is. This girl has the most amazing body. Perfect breasts, full heavy breasts with sensitive nipples. She told me having her breasts caressed, her nipples pinched, will make her pussy dripping wet, her clitoris and gspot pulsating. I love her round firm ass, I know she loves being spanked. And her pussy, so tight, so warm, and it gets dripping wet and when she orgasms her pussy juices flows even more. She told me that when she orgasms she always wants more and more stimulation. She desperately needs to orgasm again and again undtil she nearly faints from intense pleasure. She admitted that she loved being tied, used. Loves to obey and loves to show her body and her sexuality, her horniness to a stranger. This girl needs sex.
* * *
This is the place if you want to see women 18+ naked and in nylons tied up in private personal pics and video clips. The women are true amateurs and are introduced to bondage and pleasure. Become and stay Member and see all the updates from each woman - private photos and videos.
*
Below are the updates so far in Members Area
* * *
Gallery Lia tied spread - horny submissive - struggles
Lia wanted to experience to obey, to show how submissive she is. To show me how horny and slutty she is. Slowly undressing in front of me, her knowing I liked what I saw. I just love her amazing perfect breasts. So heavy, and so sensitive to touch. I you caress her nipples they immediate gets erected. And she also gets wet, just by having her breasts caressed. She undressed and on her back gave me a good show, her stimulating her pussy and clitoris with the vibrating egg. Then slowly pushed it inside her pussy, still vibrating. Vibrating on her pulsating gspot. I tied her fully spread. The feeling of being vulnerable, totally exposed. Showing me how slutty and horny she is... not being able to get loose. It made her reach several intense orgasm from the vibrating egg inside her now dripping wet, flowing pussy juice... pussy. Member please enjoy my 25 selected very private pics.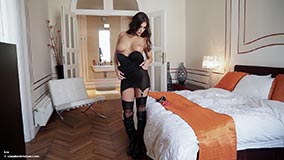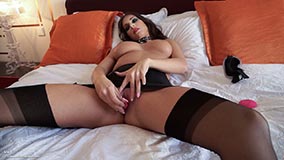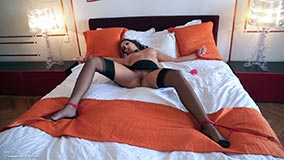 gallery - download this gallery as zip file - pics in size 1280
Video Lia tied spread - vibrating egg inside pussy - struggles - orgasms
Lia is at my place one afternoon, dressed in a black dress, vintage garter belt, vintage stockings and leather boots. No bra, no panties. She is submissive, she is horny. I have told her to show me her body. To show me how slutty she is, how horny. She know I want to see her amazing breasts, to see her spread her legs fully apart. To show me how horny she is. To show me her wet warm tight pussy that needs to be licked, fucked. She have already told me she loves to be filled with cum. Loves to have her pussy slippery wet with pussy juice and cum mixed. Having her inner thighs slippery, Slippery stuff that makes the crack of her ass wet. Yes, she willingly will let you fuck her ass. She enters my bedroom. On the bed is already waiting for her a leather collar and a blindfold and a vibrating dildo, egg shaped. She takes on the collar, then slowly takes of the dress. Exposing her amazing perfect breasts, Perky breasts, heavy full breasts with sensitive nipples. She keeps the garter belt , the stockings on. Lays on her back and spreads her legs fully apart. Her pussy is wet and open. She uses the vibrating egg and stimulates her clitoris. Then pushes the egg deep inside her pussy, so it stimulates her pulsating gspot. Then takes on the blindfold, lays on her back spreading, waiting. Next - she is tied, arms and legs. Tied so she can hardly move. I use the remote and make the egg inside her pussy vibrate stronger, and with different modes. Each change of mode making her moan and getting more and more horny. Knowing a man is looking at her, tied, spread, exposed. Slutty girl showing how submissive she is, how horny. I have the blindfold off. She struggles against the ropes. The vibrating egg inside her pussy makes her orgasm intensely. Making her pussy dripping wet. She finally stops struggling, accepting she can't get loose. Members please enjoy this private video clip.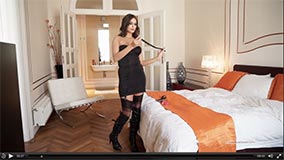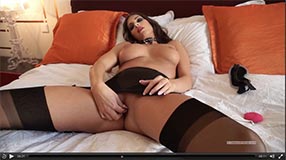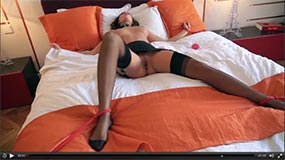 click here for video mp4 - 10 min 25 sec - streaming 960x540
click here for zip file mp4 - 960x540