Lia - first meeting
Lia told me she loves being submissive. That she wanted to submit to a man and willingly having him tie her. She wanted to feel vulnerable, exposed. She came over a couple of afternoons. Each time going further, submitting more and more. Being tied by a stranger she had just met made her feel exposed. Having a stranger tying her, seeing how horny it made her letting the man do whatever he wants to do to her. As she took off her clothes the first time I realized how extremely beautiful she is. Her body is perfect, all natural. Her skin very sensitive to touch. And so smooth. Having her neck caressed, her back... her sensitive nipples, made her shiver and she told me she could feel her pussy getting warm and wet. Than she could feel her clitoris pulsate. I introduced her to rope play and tied her fully exposed. She absolutely loved it.
* * *
This is the place if you want to see women 18+ naked and in nylons tied up in private personal pics and video clips. The women are true amateurs and are introduced to bondage and pleasure. Become and stay Member and see all the updates from each woman - private photos and videos.
*
Below are the updates so far in Members Area
* * *
Gallery Lia tied standing stretched
Lia came over. She knew I wanted to tie her. Wanted to have her submit. I tied her naked just having her wear high heels. I tied her arms and legs. Her arms above her head so she was nicely stretched. It made her fully exposed. I could admire her amazing body. Had her slowly turn around showing off her nakedness. I just love her long slim legs. Her perfect ass. Her tight pussy and her full heavy breasts. She told me later that being tied for the first time was an amazing experience than had made her extremely horny. And her pussy getting warm and wet. Member please enjoy my 20 selected very private pics.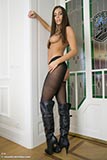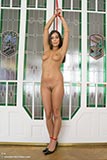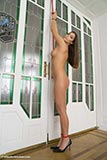 gallery - download this gallery as zip file - pics in size 3000
Gallery Lia tied fully spread
Lia is on her back in my bed. It's late one afternoon. Nobody knows where she is, visiting a stranger, getting naked, tied. Showing how horny she is. She is dressed in a golden garter belt and matching stockings. She's wearing a blindfold. She is waiting, not knowing what will happen. Then, she is tied on her back, fully spread. Arms and legs secured to the bed. Her perfect all natural body looks amazing. Her nipples are sensitive, her pussy, her clitoris, her gspot is pulsating. She can only lie fully exposed and wait. Member please enjoy my 24 selected very private pics.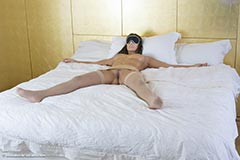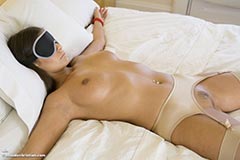 gallery - download this gallery as zip file - pics in size 3000
Video Lia tied fully spread
Lia is at my place one late afternoon. Dressed in a tight exclusive see through dress. Garter belt and stockings and high heels. She slowly undresses, uses oil on her body. Lays on her back and slowly caresses her body. Then takes on a blindfold and lays on her back fully spread, waiting. Then, tied, struggling against the ropes. Members please enjoy this private video clip.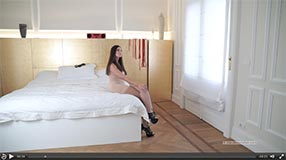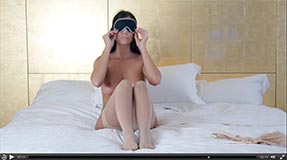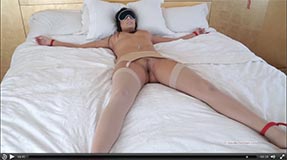 click here for video mp4 - 9 min - streaming 960x540
click here for zip file mp4 - 960x540
Gallery Lia tied fully spread
Lia looked lovely in the tight see through dress. She was wearing exclusive garter belt and stockings and high heels. It was a hot afternoon. She walked into my bedroom. Slowly undressed, keeping the garter belt an stockings on. She took on a blindfold then lay waiting in my bed, legs fully spread. I tied her good, securing her legs and arms to the bed. Legs fully spread. She knew she was totally exposed. That anyone entering could see her naked, tied, spread. She tried to struggle against the ropes. She finally stopped, realizing she was tied so she couldn't get loose. She loved it! I could see her nipples getting erected, that her pussy was getting wet. Member please enjoy my 25 selected very private pics.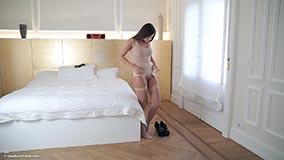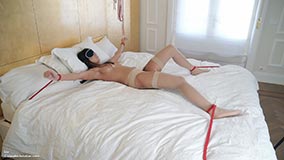 gallery - download this gallery as zip file - pics in size 1920