Athina - preview
Athina a 20yo cute girl that wanted to try how it feels being tied, restrained, manhandled and having to suck dick and get fucked, and cream pied.... by a stranger she had just met. Totally submitting herself to pleasure. This girl is super shy but at the same time she wants to explore her sexuality. Her sex drive is strong, she told me she is always horny! She has the most amazing all natural breasts and a super slim waistline and a nice round ass. I tied her and it was a treat to see how her nipples got erected and how her pussy became dripping wet. She loved having to suck dick and when I shot my cum, her being cuffed, inside her I could feel her pussy squeezing every last drop inside her warm wet tight pussy.
* * *
This is the place if you want to see women 18+ naked and in nylons tied up in private personal pics and video clips. The women are true amateurs and are introduced to bondage and pleasure. Become and stay Member and see all the updates from each woman - private photos and videos.
*
Below are the updates so far in Members Area
* * *
Gallery Athina tied fully spread
Athina goes into my bedroom and undresses, keeps her pantyhose on. Takes on a blindfold and lies down on my bed waiting spread legs. I tie her good, fully spread. I have oil on her breasts on her nylons. Her nipples get erected immediately as I touch then, I can feel how wet and warm her pussy is through the nylons. I then use a scissors and cut open her pantyhose expose her pussy. Use a vibrating dildo on and inside her pussy. she is now shivering and moaning. Her pussy grabs the dildo deep inside her. Members please enjoy my 56 selected very private pics.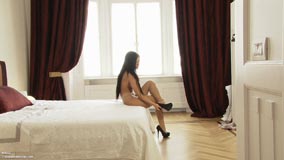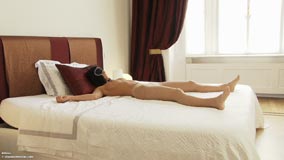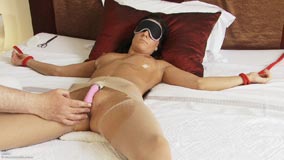 gallery - download this gallery as zip file - pics in size 1280
Video Athina submissive gets tied dildo on pussy
Athina is at my place one late afternoon. She goes into my bedroom and slowly takes off the top, skirt and her shoes. She keeps on her pantyhose. Then in bed takes on a blindfold, then waiting on her back legs spread I tie her fully spread. She shows me how submissive, how horny she is, how much she wants to be used. Then use lots of oil on her breasts, on her nylons, the inside of her thighs and my hand glides inside the pantyhose and tease her clitoris. I then cut open her nylons exposing her now warm dripping wet pussy. I use dildos and tease her pussy. I want to make her extremely horny. Members please enjoy this private video clip.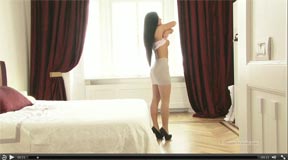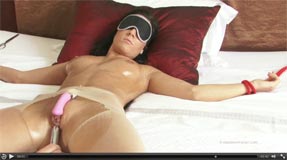 Members: Video 10 min 50 sec - Video 1280x720 mov / Video in zip file
Gallery Athina tied fully spread in pantyhose - then cut open pantyhose
Athina is tied in my bed. Finally, she loves it. Being tied by a stranger, being used. She loves it. I have her tied fully spread, ropes secured to the bed. First in pantyhose. Then in cut open pantyhose. Between the two shoots she has been manhandled and had her pussy licked until she reached several strong orgasm's She needs more. Her dripping pussy is craving to be fucked and filled with cum. Members please enjoy my 52 selected very private pics.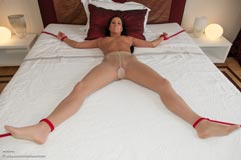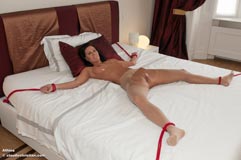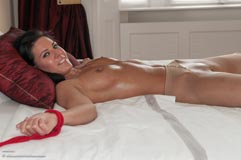 gallery - download this gallery as zip file - pics in size 3000
Video Athina tied fully spread licked and fingered to orgasm
Athina is tied in my bed. Fully spread, arms and legs secured to the bed. Blindfolded. I have already cut open her pantyhose, a vibrating dildo is stimulating her clitoris. She don't know what I will do to her next. I start licking her wet warm pussy. Slowly making her more and more horny. She pushes her pussy against my mouth wanting my tongue licking her clitoris, having me sucking her clitoris. My tongue licking deep inside her pussy also down to her ass and back up again. When I lick between her pussy and ass she shivers, that part is extremely sensitive and she loves it. When her pussy is dripping wet I start fingering inside her pussy and her clitoris with my fingers. She is now extremely horny. I take off the blindfold. Then finger her hard until she reaches several intense orgasm's. Members please enjoy this private video clip.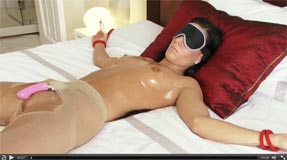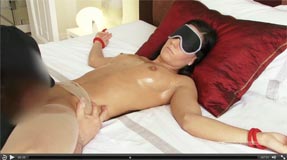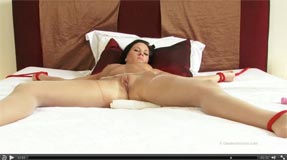 Members: Video 13 min - Video 1280x720 mov / Video in zip file
Video Athina submissive has to suck dick - gets fucked
Athina told me she loves to obey, loves to be submissive, loves to let a man, or woman, do whatever to her. She loves to just enjoy to be used, touched, be totally relaxed. She said her pussy gets dripping wet when she knows she will be used, have to suck dick, lick pussy, being restrained and fucked. She loves to have her pussy filled with cum. This girl has a tight slippery wet warm pussy that will grab your dick as you fuck her, she wants it deep inside her, she wants to squeeze the cum into her pussy, deep inside. She said she loves to suck dick, a hard one or one that is soft, and loves the feeling of the dick getting hard and growing in her mouth. Loves to hear a man moan with pleasure. She is a pro cock sucker! And pussy licker. Here I have her one afternoon at my place. Naked, blindfolded with cuffs. I start caressing her neck, her breasts. Then have oil on her tits, lots of it so it drops down on her stomach and between her legs, making her inner thighs and pussy slippery. I caress her breasts, use my nails on her stomach and she then shivers. I finger her warm pussy, wet and slippery. Then I have her suck my dick. I am already semi-hard and soon she has my dick nice and hard in her mouth. She sucks eagerly, it feels amazing having this 20yo girl sucking my dick. Then I want to continue... and have her standing bent over, I finger her pussy from behind, she is flowing pussy juice. I have her stand bent over, fuck her! Then on the table and I shoot my load deep inside her. Members please enjoy this private video clip.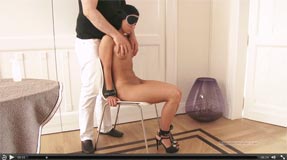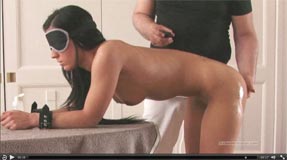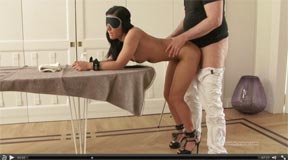 Members: Video 12 min - Video 1280x720 mov / Video in zip file