Join Single Site / Join Combo Offer (one membership two sites) click here to join
sexysettings.com women tied first time / claudechristian.com women in nylons and nude
Velvet - Models Page - Preview
Velvet is a 23yo woman I met through some friends of mine. They told me Velvet knew about my site and loved it, that she even was a member... They told me a secret that Velvet likes both men and women! As I met Velvet I loved what I was. A dark haired lovely charming woman with a nice smile. We talked some and soon she asked me if I would want to tie her... I I wanted to use her, fuck her tied up. She said - "Claude... I love sex, love to fuck... and I want to be used, tied, fucked hard!!! please will you tie me and fuck me? please... " I told her I would love to tie her and use her, but that she had to obey me... to let me do whatever I wanted to do to her... willingly! This first talk was at a small gathering with friends and a friends place, and I wanted to test Velvet, test how submissive and horny she is... so I told her to step outdoors, so we left the others for a moment to be private. I told her that if she wanted to be tied and used I had to see that she was horny and that I could do whatever I wanted to, that she could obey. So standing in the dark, just the two of us, I told her to show me her breasts and let me pinch her nipples. Without hesitation she had her top come up. Had her tits come out of her bra and closed her eyes as I pinched her nipples hard, she moaned. I then told her I needed to feel if she's a horny girl with a wet pussy... She immediately had her skirt up and I had my hand in her panties. This girl was already dripping wet. In her pussy was not shaven at all. Her pussy was hairy, very hairy, soft wet pussy hair! As I pressed her to the wall and finger fucked her pussy she spread her legs and started moaning loudly. She whispered - " yesssss Claude, I love it.... fuck me, tie me... fuck me...". I told her she had passed the test and that she was to come to my place the next day... she did, she came over several times. And she got tied, used and fucked!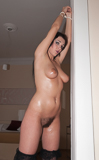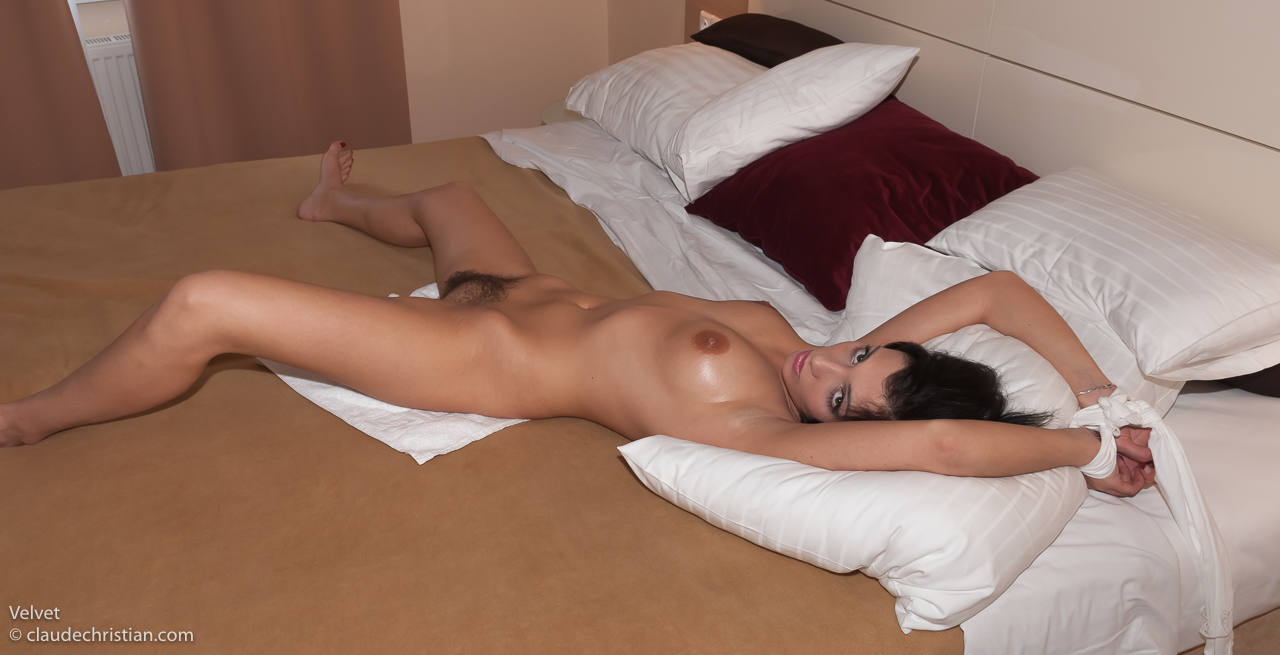 below you have her updates so far
Gallery / Video Velvet tied standing
I had told Velvet to come over and be prepared to be used, fucked. When she came I had her change clothes. Had her put on black stay ups, string panties and a dress that is see through and opens nicely and shows her nice breasts. The little string panty couldn't cover her hairy pussy! And her tits wanted to escape the dress. I had her walk around in the apartment in the outfit for a while, she looked so fucking sexy! She told me it made her horny to see me looking at her body. I then decided to start by manhandling her good, tied of course! Had her take the dress of and her panties. Tied her arms above her head and started using lots of oil, to caress and pinch her breasts and nipples, then her ass, lots of oil, at the same time I grabbed and caressed her ass I finger fucked her wet open pussy. Her pussy hair was so soft, and wet! Finally I was standing behind her, her ass pressed again me making me hard. I worked her breasts hard and finger fucked her now dripping pussy. Members please enjoy this private video clip and 42 photos.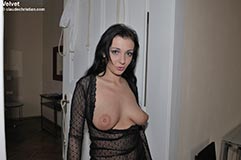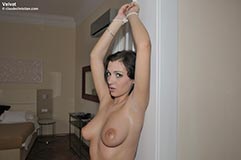 Members: 42 photos - Gallery / photos 3000px in zip file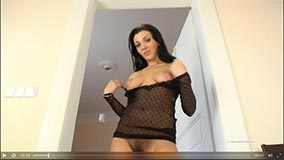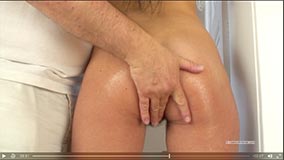 Members: Video 9 min 10 sec - Video 960x540 / Video 960x650 zip file
Video Velvet tied on her stomach pussy fingered
Velvet is in my bed, she gets her arms tied. She's got on nice pantyhose. I have put a pillow under her stomach so her ass is nicely pushed up.I start touching her back, ass. Then have the pantyhose come down and have oil on her ass. I manhandle her good. Then have the pantyhose off and tell her to spread her legs. Her hairy pussy is now wet and opens. I finger fuck her wet warm pussy. Members please enjoy this private video clip.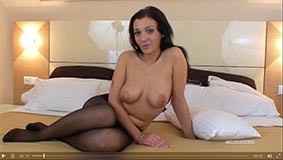 Members: Video 6 min - Video 960x540 / Video 960x650 zip file
Video Velvet tied on her back pussy fingered
I have just tied Velvet in my bed, arms above her head. She's horny, very horny. She wants to be tied and fucked but first I want to make her pussy wet, very wet. I start by having lots of oil all over her body, manhandle her good. Then use a vibrating dildo on her clitoris until she moans and squirms around... soon she orgasms. She's now ready to be fucked, tied! Members please enjoy this private video clip.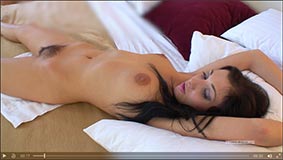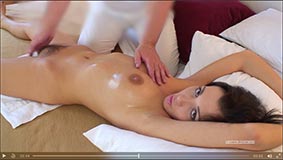 Members: Video 5 min 30 sec - Video 960x540 / Video 960x650 zip file
---
email: support at sexysettings.com
In accordance with the Federal Labeling and Recording-keeping law (18 U.S.C 2257) the records required by Federal Law for this website are kept on file.

All rights reserved. All Models are 18 years of age or older and depicted as of legal age.

Copyright © sexysettings.com All rights reserved