Join Single Site / Join Combo Offer (one membership two sites) click here to join
sexysettings.com women tied first time / claudechristian.com women in nylons and nude
Nikky - Models Page - Preview
Nikky is just the most lovely cute beautiful woman. She is an extremely sexual woman. I love her slim firm body. Her nipples gets hard and pointy, her pussy opens and gets very very wet. And both her clitoris and gspot are extremely sensitive. She will orgasm if you tease the gspot, clitoris or her nipples. Her orgasms makes her body shiver and her pussy juices to flow. And she will always want more! I had her at my place a couple of afternoons. She totally submitted, obeyed my requests willing. It was a treat tying this cute kitten. Her totally submitting to a stranger she had just met. And, this woman always makes sure to give you immense mind blowing pleasure.
below you have her updates so far
Video Nikki tied - dildo gspot stimulation to orgasm
Nikky was at my place, waiting. Dressed in a cute tight dress, garter belt and stockings and high heels. She had already positioned herself on my table, playing with the ropes and waiting for me to come home. I immediately knew what she wanted. To be tied and manhandled., she was horny. I started by blindfolding her, then touching her body, she shivered. I then tied her arms, then got her naked keeping the stockings on. I tied her legs separated. Her pussy was wet and open. I had oil all over her body, touched her sensitive skin, had a vibrating dildo in her pussy making sure it stimulated her gspot, also her hard clitoris. She was soon moaning and squirming as the dildo vibrated, pulsated on her g-point. She reaches a long intense orgasm. Members please enjoy this private video clip.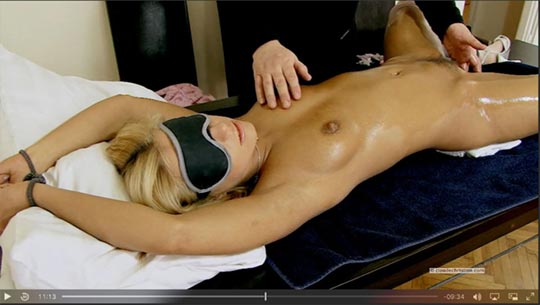 Members: Video 20 min 40 sec - Video 960x540 / Video 960x650 zip file
Video Nikki crotchless pantyhose tied gspot orgasm
Nikky goes into my bedroom. Dressed in a nice top, hot pants, crotchless pantyhose and high! high heeled boots. She takes off her top and hot pants, sits down and waits. I then blindfold her, have her wear a collar, use cuffs on her legs and arm. I then have her on her stomach and tied fully spread. I then manhandle her ass with oil, her pussy with my fingers and a vibrating dildo deep inside her just on her gspot until she squirms and moans from an intense orgasm. Members please enjoy this private video clip.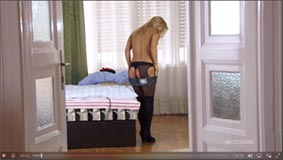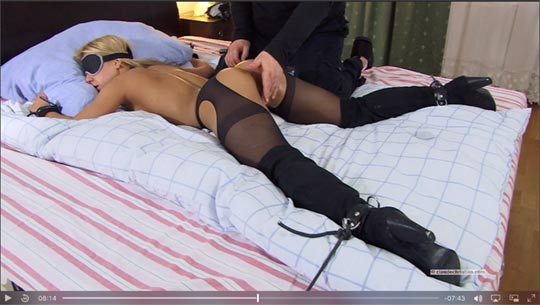 Members: Video 15 min 50 sec - Video 960x540 / Video 960x650 zip file
---
email: support at sexysettings.com
In accordance with the Federal Labeling and Recording-keeping law (18 U.S.C 2257) the records required by Federal Law for this website are kept on file.

All rights reserved. All Models are 18 years of age or older and depicted as of legal age.

Copyright © sexysettings.com All rights reserved