Join Single Site / Join Combo Offer (one membership two sites) click here to join
sexysettings.com women tied first time / claudechristian.com women in nylons and nude
Lucy Zara - Models Page - Preview
It was a treat meeting to fetish model Lucy Zara. We met in a hotel room in London one evening. She looked stunningly beautiful. We played around for some hours, I tied her in a couple positions. She told me her favorite was being tied all naked, arms and legs tied and secured to the bed, legs fully spread. That position - she said - made her clitoris pulsating and made her extremely horny. Being naked, exposed, vulnerably... in a hotel room with a man, a stranger, she had just met.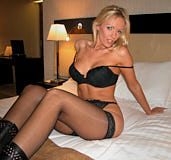 below you have her updates so far
Gallery Lucy Zara hogtied
Hogtied is a nice way to tie. The woman is totally helpless and you have total control. I love to tie so penetration can be done. Must find a way to hogtie so this is still possible - I am working on it. In this session Lucy is tightly tied in my bed. Wearing a white bra and panties. I then make the panties come down exposing her pussy and lovely ass. Then I let her full D size breasts come free from the bra. She loves being tied fully exposed. Her pussy was wet and warm. Her clitoris pulsating. Members please enjoy my selected very private pics.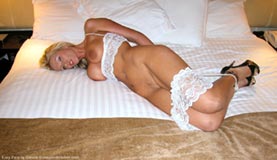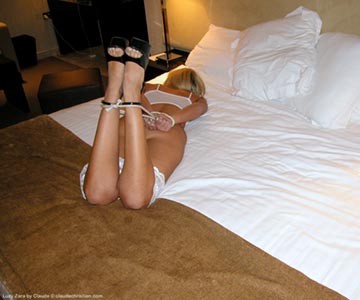 Members: 28 photos - Gallery / photos 1280px in zip file
Gallery Lucy Zara tied fully spread
Lucy came over to my hotel. She undressed but kept her black stockings and high heeled leather boots on. She lay on her back in my bed, relaxed. Told me she wanted to be tied. I tied her arms, tied her legs fully spread. Secured the rope to the bed nicely stretched so she could hardly move. She looked lovely. I love her amazing big extremely sensitive nipples. She lay there totally exposed, her pussy open and wet. She told me she loved being exposed in front of a stranger. Members please enjoy my very private pics.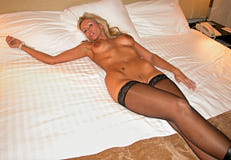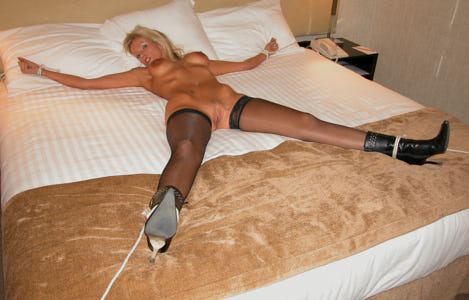 Members: 31 photos - Gallery / photos 1280px in zip file
---
email: support at sexysettings.com
In accordance with the Federal Labeling and Recording-keeping law (18 U.S.C 2257) the records required by Federal Law for this website are kept on file.

All rights reserved. All Models are 18 years of age or older and depicted as of legal age.

Copyright © sexysettings.com All rights reserved