Join Single Site / Join Combo Offer (one membership two sites) click here to join
sexysettings.com women tied first time / claudechristian.com women in nylons and nude
Lola - Models Page - Preview
When Lola emailed me she said - "Claude, I want to be tied and used, do you want to tie me?". I told her I wanted to tie her! I had her come over a couple of times and each time tied her in different positions. She loved it. As I tied her I could see her nipples harden, and soon her pussy was dripping wet. When tied she was totally relaxed, most of the time eyes closed, just moaning. Struggling against the ropes. She admitted being tied legs fully spread, on her back or on her stomach, lying down was the most thrilling thing, and being blindfolded at the same time made the experience slightly frightening but always enjoyable. Or to be clear, it made her extremely horny.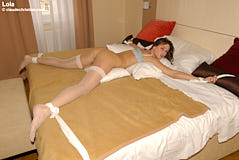 below you have her updates so far
Video Lola tied struggles
I love this! When a girl is so horny that she gets undressed, lays in my bed and just waits. I found Lola stripped on her stomach in my bed, lying legs spread, waiting to be tied. I entered my bedroom, stood there for a while and admired what I saw, Lola fully spread! Showing off her lovely ass. I started tying her arms and then her legs, tied her good so she couldn't move. She was pushing her ass up so she was even more open, exposed. I told her to try to get loose, to struggle against the ropes. She did, but couldn't get loose. She lay there moaning, horny! Members please enjoy this private video clip.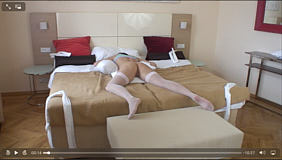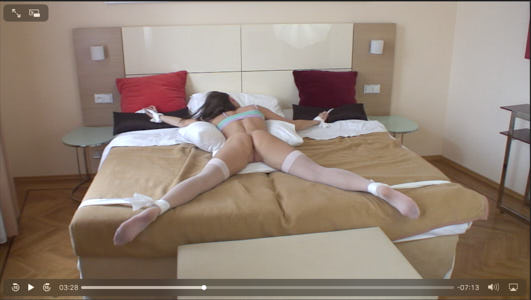 Members: Video 10 min 35 sec - Video 960x540 / Video 960x540 zip file
Video Lola tied blindfolded fully spread
Lola went into my bedroom. Naked! She takes on a blindfold then lays down on her back and waits. It's an intense experience for her, being tied by a stranger in this extremely exposed position. To make her feel how vulnerably she is I have her struggle the tying. She can't get loose. Members please enjoy this private video clip.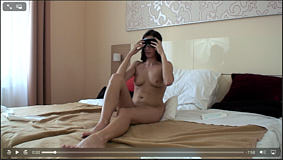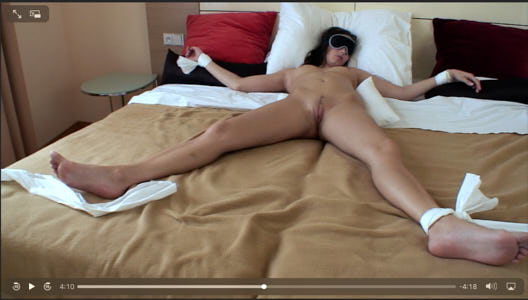 Members: Video 8 min 20 sec - Video 960x540 / Video 960x650 zip file
Gallery Lola hogtied
I told Lola to get naked, in front of me she undressed slowly. I could see her nipples being rock hard, her panties wet. She was horny. I had her lie down on my bed and position herself for being hogtied. I tied her arms and legs so she was stretched back. She could still move slightly spreading her legs. I had her lie and separate her legs for me, showing me how horny and obedient she is. Members please enjoy my selected private pics.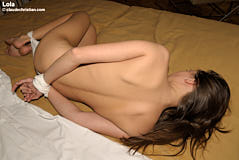 Members: 25 photos - Gallery / photos 3000px in zip file
---
email: support at sexysettings.com
In accordance with the Federal Labeling and Recording-keeping law (18 U.S.C 2257) the records required by Federal Law for this website are kept on file.

All rights reserved. All Models are 18 years of age or older and depicted as of legal age.

Copyright © sexysettings.com All rights reserved