Join Single Site / Join Combo Offer (one membership two sites) click here to join
sexysettings.com women tied first time / claudechristian.com women in nylons and nude
Camilla - Models Page - Preview
Camilla is a tall slim beautiful blonde woman. She emailed me and asked if I wanted to tie her. She said she wanted me to tie her as the women here at sexysettings.com. She said she loved that they show on their pics and their videos that they love it. She wanted to be tied hard and have a man caress her body, her breasts and her warm wet puss, and by a stranger!. She came to my place several times, and we spent hours playing with the ropes. She loved trying different tying positions. And she loved when I used some nice olive oil to caress her body. Her nipples were always rock hard and her pussy wet, very wet. Her clitoris rock hard. The favorite position was being tied naked bent over, ass in the air, legs separated and having her pussy caressed.
below you have her updates so far
Gallery Camilla tied standing - exposed
This afternoon... Camilla is at my place looking more gorgeous than ever. This woman has charm and she is stunningly beautiful. And so nice to be with. I had her take off her skirt. Tied her in the middle of the room, arms above her head secured to a beam. She had on a nice tight blue top and yellow panties. Stunning! She was smiling, experiencing the feeling being tied by a more or less stranger. A stranger she did trust. For me it was a treat. This woman just makes your forget everything with her beauty, smile and personality. I then exposed her, had the panties off and the top up showing off her lovely breasts with erect nipples. Members please enjoy my 37 selected very private pics.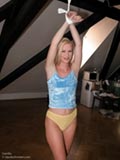 Members: 37 photos - Gallery / photos 1280px in zip file
Video Camilla tied naked in bed
Camilla is in my bed. It's late one afternoon. She's naked and hogtied. The rope is connected - arms and legs - between her legs, between her pussy lips - so her pussy and clitoris get stroked by the ropes when she moves. Her nipples are sensitive, her pussy wet. She loves it. I then tie her on her back and have her spread her legs. Members please enjoy this private video clip.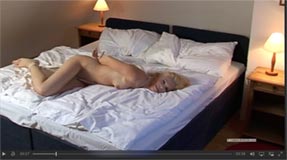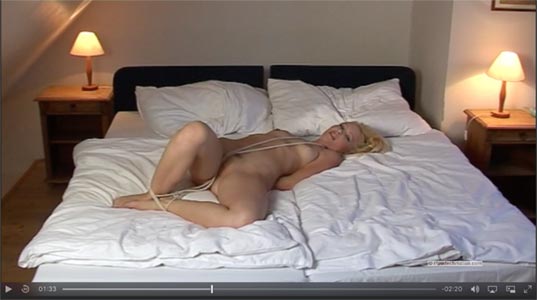 Members: Video 3 min 45 sec - Video 960x540 / Video 960x650 zip file
Gallery Camilla tied hog
Having this lovely beautiful charming woman at my place was a treat. Her beauty is classy and natural. I hade her naked, tied her in a hog position. Making sure the ropes from her neck to her legs was between her pussy lips. So when she tried to move the rope stimulated her clitoris. Please remember she is with a stranger she had just met. But totally submits. She's a very horny woman. Members please enjoy my 28 selected very private pics.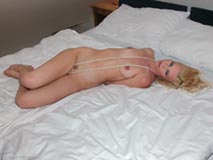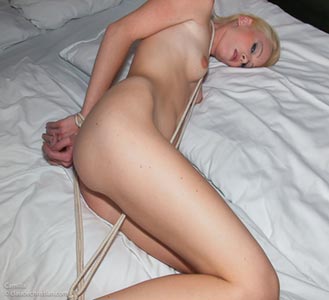 Members: 28 photos - Gallery / photos 1280px in zip file
---
email: support at sexysettings.com
In accordance with the Federal Labeling and Recording-keeping law (18 U.S.C 2257) the records required by Federal Law for this website are kept on file.

All rights reserved. All Models are 18 years of age or older and depicted as of legal age.

Copyright © sexysettings.com All rights reserved